Treatment costs
Special offers now on. CALL NOW!

01923 226 336
We charge according to the number of areas treated.
Please see the image below to give you an idea as to what we can treat.
The first site treated in any one session is charged at 179. Each subsequent site is just 100.
This is extremely competitive for London and the South East area especially since we only use branded products.
| | |
| --- | --- |
| Forehead only | 179 |
| Forehead and Glabella Frown Lines | 279 |
| Crows Feet and Glabella Frown Lines | 279 |
| Crows Feet only | 179 |
| Glabella frown lines only | 179 |
Injections to reduce lines and wrinkles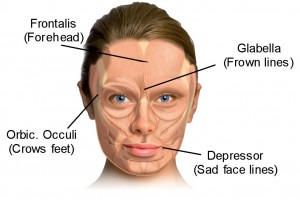 Botulinum toxin is a derivative of a bacterium that has been used widely in medicine for decades.
There are many different types each with individual uses. Type A is the version most commonly used by injection to reduce the action of muscles. It is also used to treat over-active glands such as the sweat glands.
Its action in reducing muscle activity can help reduce the formation of deep lines and wrinkles that are caused by over-active muscles of facial expression.
Botulinum Toxin Type A (BTX-A)can only be administered by a healthcare professional and is a pharmaceutical drug.
In a simple, non-surgical treatment BTX-Ais injected directly into the muscles. It works by blocking nerve impulses to the injected muscles. This reduces muscle activity that causes moderate to severe lines to form.
Within days, you may see a marked improvement in the moderate-to-severe lines. Lines continue to improve for up to 30 days, and results can last for up to 4 months. Individual results may vary -be sure to talk to us about what you can expect and when to schedule your next appointment.
Please drag the arrows on each image to see the
Before

and

After

animations.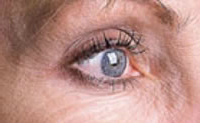 Discomfort is usually minimal and brief. Prior to injection, you may choose to numb the area with a cold pack or anesthetic cream. The entire procedure takes approximately 10-30 minutes depending on the number of areas being treated.
At Skin & Smiles we use the Coolsense product to quickly and painlessly freeze the area prior to injection to make it even easier.
If you do not continue treatments, the moderate-to-severe frown lines between your brows will gradually return to the way they looked before treatment.

Last Updated: 9th August 2023 at 1:12 pm