Natural Beauty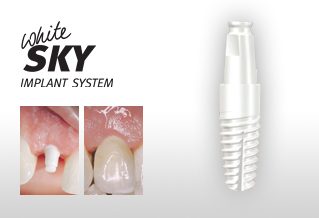 Our demands on the aesthetic appearance of metal-free dental implants are growing.
The tooth-coloured White SKY zirconium dioxide implant meets these high demands on aesthetics.
No dark shades will affect the beauty of the restoration. Perfect results will be achieved even in cases of low gum height.
A growing number of people have developed allergies to metals; the White SKY zirconium implant represents a reliable alternative for this group. The absence of pure metals and alloys protects against undesired negative reactions.
The material is perfectly suited for implants since it features a strength that is three times higher than that of titanium, exhibits ideal elasticity and long-term resistance to fracture. Scientific studies have showed that it features the same characteristics as comparable titanium surfaces as far as osseointegration is concerned.
Thanks to the one-piece design of the implant, it is always suitable for immediate loading, i.e. the same requirements as those for an immediately loaded titanium implant need to be fulfilled such as sufficient bone volume, adequate primary stability and connecting to adjacent teeth or to other White SKY implants.
Three times as stable as titanium
The stability of unground Brezirkon is 3 times higher than that of titanium and twice that of aluminium oxide, and the breaking resistance is even increased by industrial grinding. Grinding the implant within the mouth reduces the stability just marginally, so that long-term success is guaranteed.
Ideal elasticity
At the same time, Brezirkon (the modified Zirconium created by Bredent Medical) features excellent elastic properties, which means it is less brittle than aluminium oxide and therefore less inclined to break, and it is more stable than titanium and therefore less deformable.
Long-term fracture stability
In addition, Brezirkon facilitates a kind of built-in defect blocker. This means that micro fractures are stabilized through phase transformation preventing the fracture's progressive movement.
Long-term success thanks to perfect soft tissue seal
The results obtained with the Tübingen implant more than 20 years ago already showed that the soft tissue attaches perfectly to ceramic implants so that there is only a minimal risk of peri-implantitis. – This is the inflammation of the tissues around the implant which can ultimately lead to implant failure.
The risk of penetration of pathogenic bacteria to the bone level can almost be eliminated.
Indications for use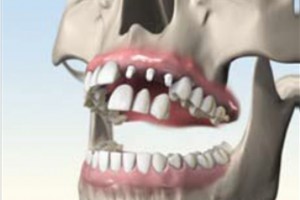 Since the white SKY zirconium implant is a one-piece implant, particular attention is paid to the healing phase.
We will only place the implant in situations in which safe healing is ensured by the adjacent teeth. The implant cannot be subjected to functional loading during the healing phase.
Generally, two-stage procedures should be chosen for grafting techniques in conjunction with white SKY implants. As a result these types of treatments will take longer than usual.
In large gaps each missing tooth should be replaced with a white SKY zirconium implant to avoid excessive loading of the implants. – This is as opposed to placing a bridge between two white SKY implants.
Click here to download the white SKY Patient information leaflet.
Click here for a FREE initial consultation for Metal-free Dental Implants or BOOK ON-LINE
Last Updated: 7th April 2019 at 2:07 pm